A new compact Nintendo 3DS you can customise
New Nintendo 3DS is a convenient portable size with a screen 1.2 times bigger than that of Nintendo 3DS. Customise with cover plates in your favourite designs, for a truly personal look!

White

Black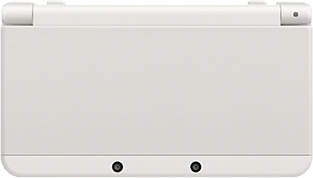 New Nintendo 3DS system x 1
Cover plates (same colour as the system)
New Nintendo 3DS stylus x 1
microSDHC memory card (4 GB)
AR Cards
Quick-Start Guide
Operations Manual/warranty card
*Note: The cover plates, stylus and microSDHC memory card are installed in the system

AC adapter is NOT included
The AC adapter from the Nintendo 2DS, Nintendo 3DS, Nintendo 3DS XL, Nintendo DSi or Nintendo DSi XL systems can be used with New Nintendo 3DS, or an AC adapter can be purchased separately.